KCT won the 2020 "Outstanding supplier" Award of T&W
Release time:2021-08-20 18:51:00Hits:
Recently, KCT was awarded the 2020 "Outstanding supplier" Award by Shenzhen Gongjin Electronics Co., Ltd.(hereinafter referred to as "T&W"). Mr. Wang Lan, Deputy General Manager of T&W Group, Mr. Wang Shaocong, Director of supply chain and Mr. Yan Chunping, Director of Operations, present the trophy to Kangxi Communication Technologies (Shanghai) Co., Ltd in KCT's office.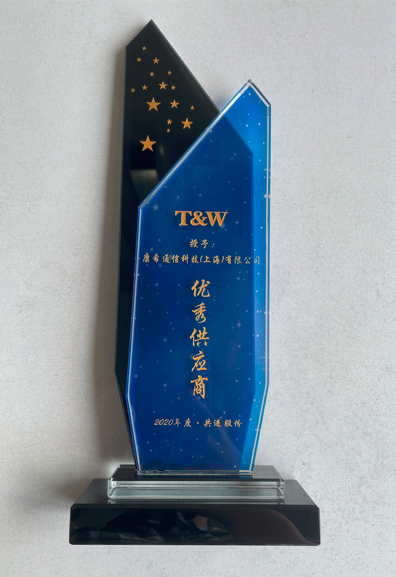 2020 Outstanding supplier Award of T&W
Shenzhen Gongjin Electronics Co., Ltd. is a high-tech enterprise which is engaged in professional products, R&D, production and sales.

As the first batch of national high-tech enterprises, T&W is the main partner of many famous operators and communication equipment providers in the world. With the tenet of "developing enterprises, training talents and giving back to the society", and with "respect for talents and teamwork" as the corporate culture, we strive to build the vision of "becoming an enterprise responsible to the society, to users, to employees and to shareholders". It has established long-term strategic cooperative relations with a large number of outstanding enterprises in scientific and technological research and development, technological innovation and industrial alliances.

Kangxi Communication Technologies (Shanghai) Co., Ltd., as a company engaged in RF front-end chip design and integrated circuit, is honored to be awarded the "outstanding supplier" award in 2020. Our company and T&W Group will continue to maintain a close and pretty cooperative relationship in the future, and make common progress and common development in the days to come.
---